Lead up to 'The Broadcast'

BNO's broadcast is coming up this Thursday on TV3, which is exciting. Once again, we've had some great reviews so thanks to the Herald, the Listener and of course to TV3. The film has done well in festivals and in its theatrical release, but it is great to reach bigger, and sometimes random, audiences through the "box" (free to air at least).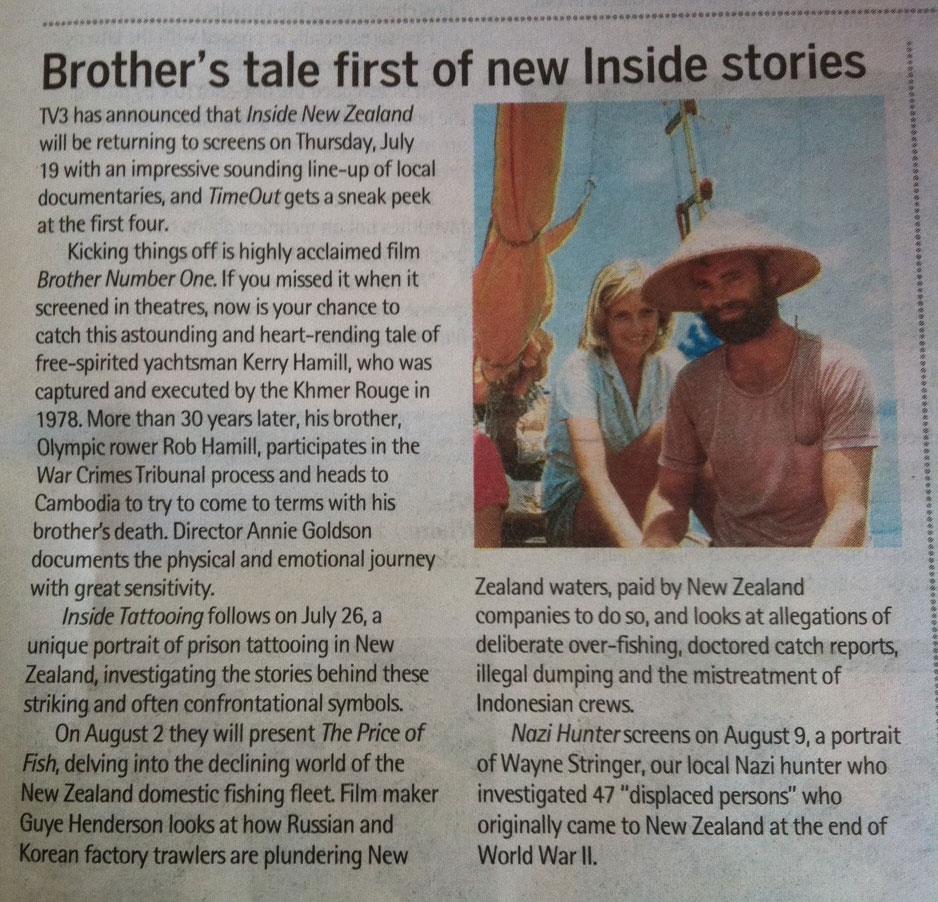 And cheers, too, to TV3 for having BNO kick off Inside New Zealand, and for retaining a primetime documentary strand for Kiwi filmmakers.
Apart from these occasional brightspots, the broadcasting outlook is bleak for local makers. I for one, miss TVNZ7 as do my friends and family. The Government's logic that we have more "choice" and "digitalization" so we don't need TVNZ7 is pretty flawed. Media Studies 101 classes point out the more "choice" some of us have (the half of us that can afford Sky), the more New Zealand content, particularly public broadcasting, is drowned out by international imports. TVNZ7 had a tiny budget compared to some of the consultancy fees currently being doled out and the producers and creatives did a fine job.

The broadcast version of Brother Number One airing Thursday is half the length of the original film given it needed to conform to a television hour. Content is always hard to lose, as filmmakers will testify, but we see it as a different film and think/hope it works. Much pacier and more focused around Rob's story.

Once the broadcast is over, we are releasing a DVD of the feature version which will be available on our website, brothernumberone.co.nz (an English version AND a Khmer version). And for those involved in education or who are just interested (in the history of war crimes tribunals since Nuremberg, the Cold War, Vietnam and Cambodia, textual analyses of documentary, exploring differing viewing contexts (cinema vs TV) etc.), there are a lot more clips and information in our two study guides online (with an answer booklet forthcoming). They conform to NCEA specs but are also suitable for university students and adults and have lots of additional clips and outtakes.

As someone who straddles the worlds of film and television (and university for that matter), I'm sad to see the demise of the film awards and congrats to the Director's Guild who helped managed them so adeptly for many years. They were expensive and demanding to run (and all the Guilds have faced cutbacks), and yes, there was a tension between the high profile commercial and competitive prerogatives of broadcasters and the more varied palate that film culture engages with. In the "old days" in fact, there had been separate film and television awards . . so maybe, again, we will be reinventing the wheel.

Anyway, I hope you all tune in on Thursday night, TV3 – and be great to get your feedback on Facebook. All good on the international front with our fabulous sales agent Cargo Film and Releasing getting great distributors on board.
- Annie Goldson