Exhibition: A reporter's dangerous guided tour through Democratic Kampuchea
Elizabeth Becker was one of only two Western journalists allowed to visit Cambodia under the Khmer Rouge. In 2011 she donated digital copies of the color photographs and recorded interviews she made on the rare 1978 reporting trip to Cambodia under the Khmer Rouge to the Bophana Center in Phnom Penh.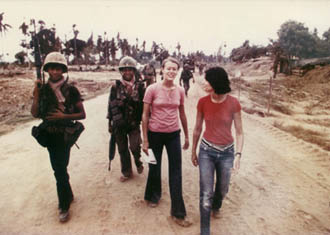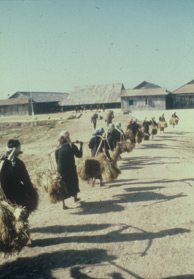 Last month the Bophana Centre held an Exhibition of her work which she attended:
The open-air gallery was packed. Cambodians lingered over the photographs of the empty city of Phnom Penh under the Khmer Rouge, of Pol Pot and other leaders, of rural scenes, of an empty Angkor Wat and of soldiers preparing for battle on the eastern front. They pulled on headphones to hear the voices of Pol Pot, Ieng Sary and Ieng Thirith on my recorded interviews.
Surprisingly, I saw Cambodians taking each other's photographs in front of my large portrait of Pol Pot.  When I asked one young woman why, she answered that she had never seen a photograph of Pol Pot before and that some of the young people questioned whether he existed. I couldn't have been happier to see my thirty year old photographs and recordings boost interest in discovering the history of that unspeakable time.
- Excerpt from Elizabeth's guest blog on New Mandala