NZIFF has been a blast!
The New Zealand Film Festival has been a blast, and now is slowly drawing to a close (with Hamilton, Nelson & New Plymouth still to go). It has been fun traveling with the film, and it strikes me how different our cities are in New Zealand, quite different in feel, geography, character and architecture.
We managed to get marooned in Dunedin in the snow for an extra couple of days: magical, except we never left the Octagon and in Christchurch I managed to get in some disaster tourism (ferried around by the generous Nick Drake), and experienced my own vigorous aftershock. I also had quite a Wellington experience staying at the fabulous Museum Hotel. I walk in and there is Stephen Fry being interviewed (in town for The Hobbit) in front of the classic wearable arts ensemble – a suit of armour made of used teabags.

Audiences have been really appreciative of the film, and we have some received some heartfelt comments on Facebook. Our joke is that we should have gotten Kleenex as a sponsor. In Auckland, Wellington and Christchurch we opened the film with Cambodian dancers – dressed in their gold and silk, elegant and gracious. Not only did this add greatly to the feel of the film, but meant we also liaised closely with the local community in those cities. Chakara Lim, our associate producer, has been able to draw dancers together seemingly effortlessly up and down New Zealand although I know how hard he works behind the scenes. I think that the dancers really helped to get the word out and draw the Cambodian community to the film.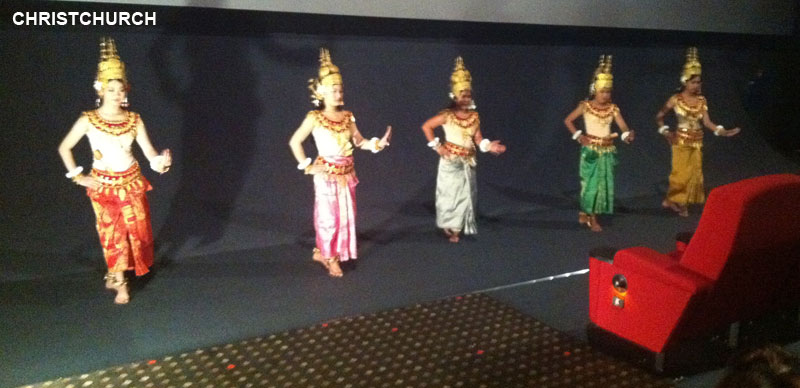 It is interesting to hear what people say in the Q and A, too. "Did you ever ask the Karma question of Duch?" is asked frequently, and many have asked Rob if he feels his journey, and the film, has helped him. Many thank him for his courage and emotional honesty.
Next is a short sweet theatrical so let's hope we are coming to a theatre near you . . . more on that very soon!
- Annie